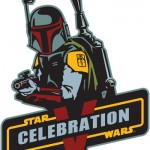 It's official. Celebration 5 will be in Orlando in August 2010. Not the best combination of time and location—it will be unbearably hot.
Four day adult passes are $120, four day kids are $50, and they have single day admissions as well. I had been to Celebration II (Indianapolis 2002) and it was one of the most fun things I've done.
From starwars.com:
Star Wars Celebration V will take place August 12-15, 2010, at the Orange County Convention Center in Orlando, Florida. A website, www.starwarscelebration.com, is dedicated exclusively to the event, and tickets to Star Wars Celebration V will be available for purchase online starting Thursday, December 10th. As always, Celebration will bring together the best of the Star Wars universe in one exciting, dynamic event!
Will you be there?
UPDATE: Tickets now on sale.