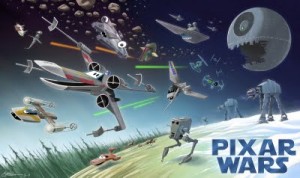 In 1985, Steve Jobs left Apple. A year later, he paid George Lucas $5 million to acquire technology rights for a computer division within Lucasfilm. Steve Jobs named this division Pixar.
In 2006, after an unprecedented run of successful films, Disney bought Pixar for $7.4 billion dollars in an all-stock deal. Overnight, Steve Jobs was Disney's largest individual shareholder with 7% ownership and a seat on the board. After his death in 2011, his trust holds these shares.
Today, Disney acquired Lucasfilm for $4 billion making the Jobs estate the largest stakeholder in Lucasfilm's future. And since the acquisition was partly a stock deal, it makes Lucas a fairly large shareholder in Disney.
Disney, Apple and Lucasfilm (really, Star Wars) are very similar companies. Each was shaped by the singular vision of a perfectionist. So much so that each company was synonymous with their CEO in their lifetimes. Walt Disney, Steve Jobs and George Lucas.
Jobs and Disney didn't relinquish control until their deaths. Lucas has chosen to see his baby transition to a new home while he is still around to manage it.
For all of these reasons, I find it fascinating and reassuring, and perhaps it's no coincidence, that Jobs (through Pixar and his estate) and Lucas are responsible for the future of Disney.
A side note on the circular nature of these things. In 1986, George Lucas produced the love-to-hate-it Marvel-owned Howard the Duck. Today Marvel and Lucasfilm are under the same Disney umbrella.
Image credit: Pixar Wars by Andrew Chesworth