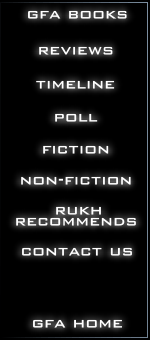 Certain sections may not work yet; they are still under construction.
Thank you for your patience.
Jedi Apprentice #3: The Hidden Past
By Jude Watson

44 years before ANH

This is the third book in an on-going series that shows us the "hows and wherefores" of the early years of the relationship between Obi-Wan Kenobi and Qui-Gon Jinn.
SYNOPSIS
This third book in the Jedi Apprentice series picks up right where book #2, The Dark Rival, left off. In that book, Qui-Gon Jinn was forced to confront his former apprentice, Xanatos, now powerful and evil, in order to mediate a mining dispute on the planet Bandomeer. He was also forced to move past his sense of failure with Xanatos in order to accept Obi-Wan as his Padawan. And Obi-Wan and Qui-Gon had to learn to work together to defeat Xanatos and to keep each other alive.
Book #3, The Hidden Past, takes off immediately following the succesful conclusion of Book #2. Qui-Gon has finally taken Obi-Wan as his Padawan-learner, and now Obi-Wan's official apprenticeship begins in earnest. For their first mission together as master and apprentice, they are assigned to monitor the election on the planet Gala. En Route to Gala, however, the Jedi are kidnapped by Obi-Wan's friend Guerra (whom he met while prisoner on an ocean mining platform in Book #2), and by Guerra's brother, Paxxi. Guerra and Paxxi spirit Qui-Gon and Obi-Wan to their home planet of Phindar, and beg their help in over-throwing the opressive Syndicat which has taken control of Phindar. The Jedi are at first reluctant to help the Phindians…..seeing as how they were taken to Phindar under less-than-honest circumstances…….but upon learning of interference in the Phindar situation by the Prince of Gala, Qui-Gon senses the influence of the Force at work in bringing them to Phindar, and agrees to aid the Phindians in their cause. Along the way, the Jedi must deal with Guerra and Paxxi's somewhat "flexible" notion of the truth, and must escape the Syndicat's efforts to brain-wash any enemies of their rule.
MY WORDS OF WISDOM
If you've read the reviews of the first two Jedi Apprentice novels, you pretty much know where this one is going too. Author Jude Watson does a fine job of further developing the relationship between Obi-Wan and Qui-Gon, and their "voices" and interactions ring true to the men they will be in SW:Episode 1. The Hidden Past is chock full of action and humor, the Phindian characters are fleshed-out and entertaining, and the plot is fast-moving and fun. There are also several quite moving scenes: a poignant sub-plot regarding Guerra and Paxxi's brain-washed sister, and a lovely scene with an imprisoned Obi-Wan using the Force to calm his fears and help him survive his impending mind-wipe. We also get a few hints about Obi-Wan's past…..a mention of his family and his brother Owen……tantalizing morsels for the completist among us.